iBwave Wi‑Fi® (PC version)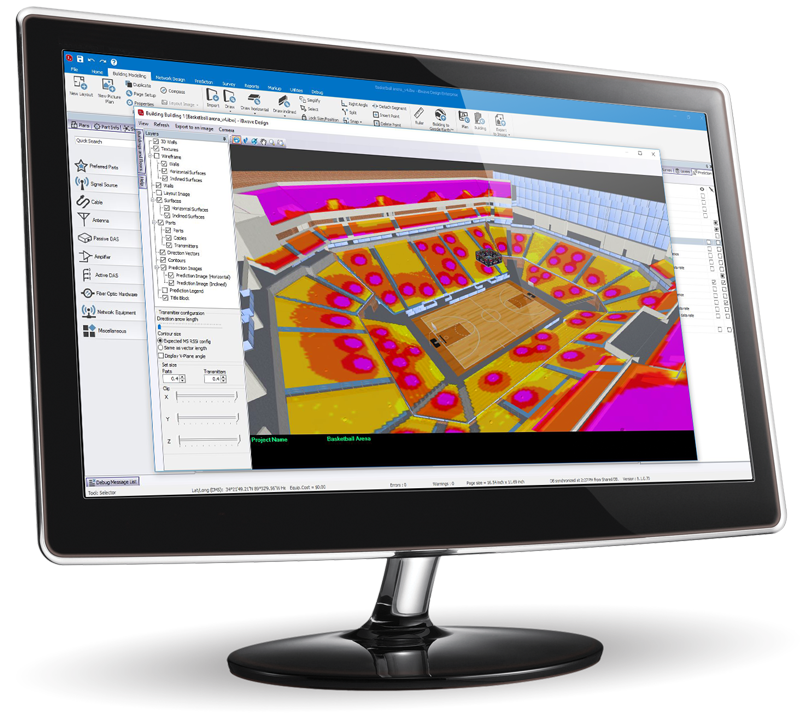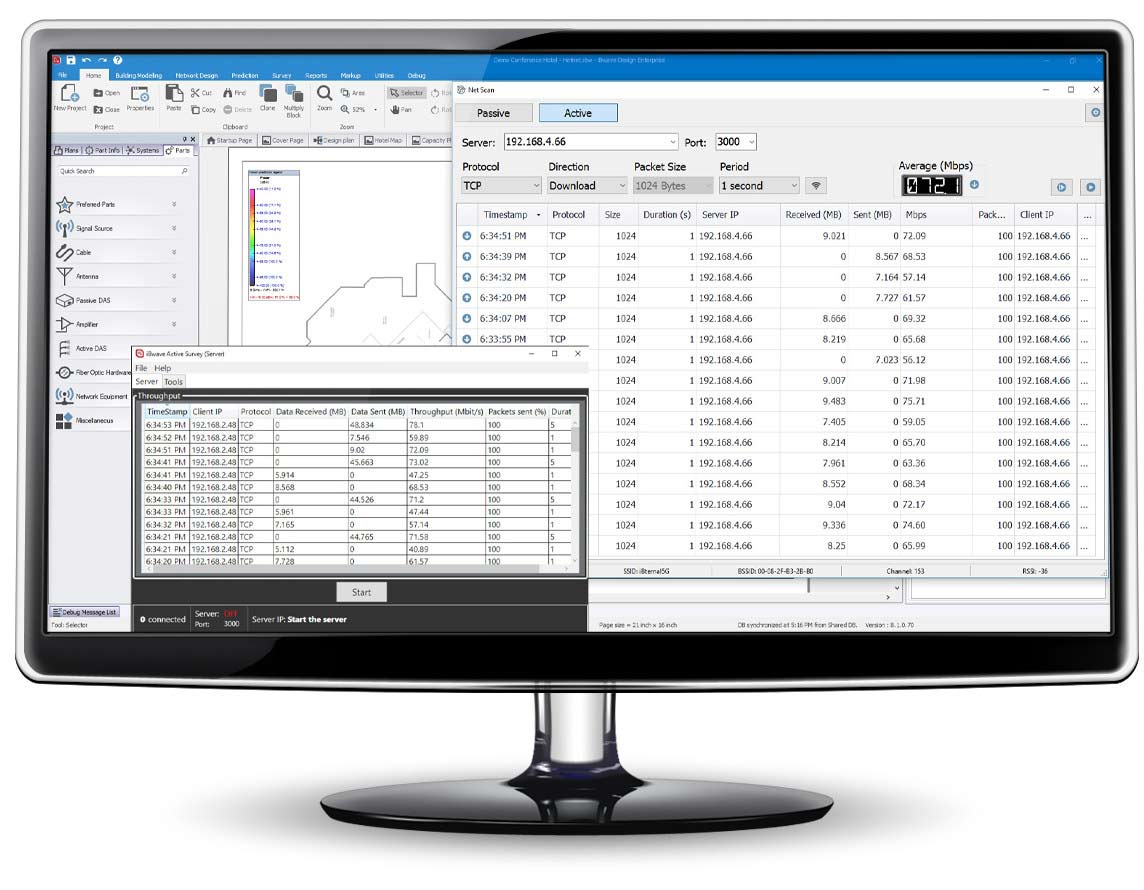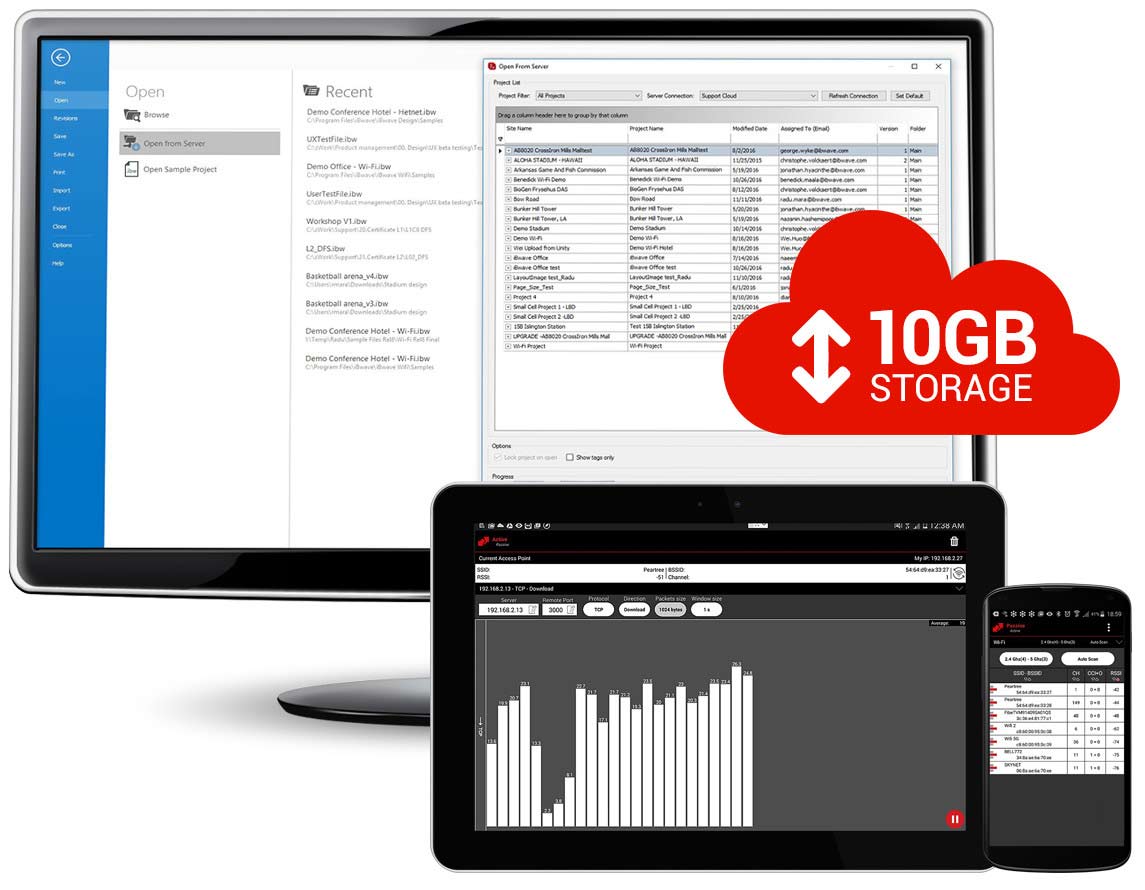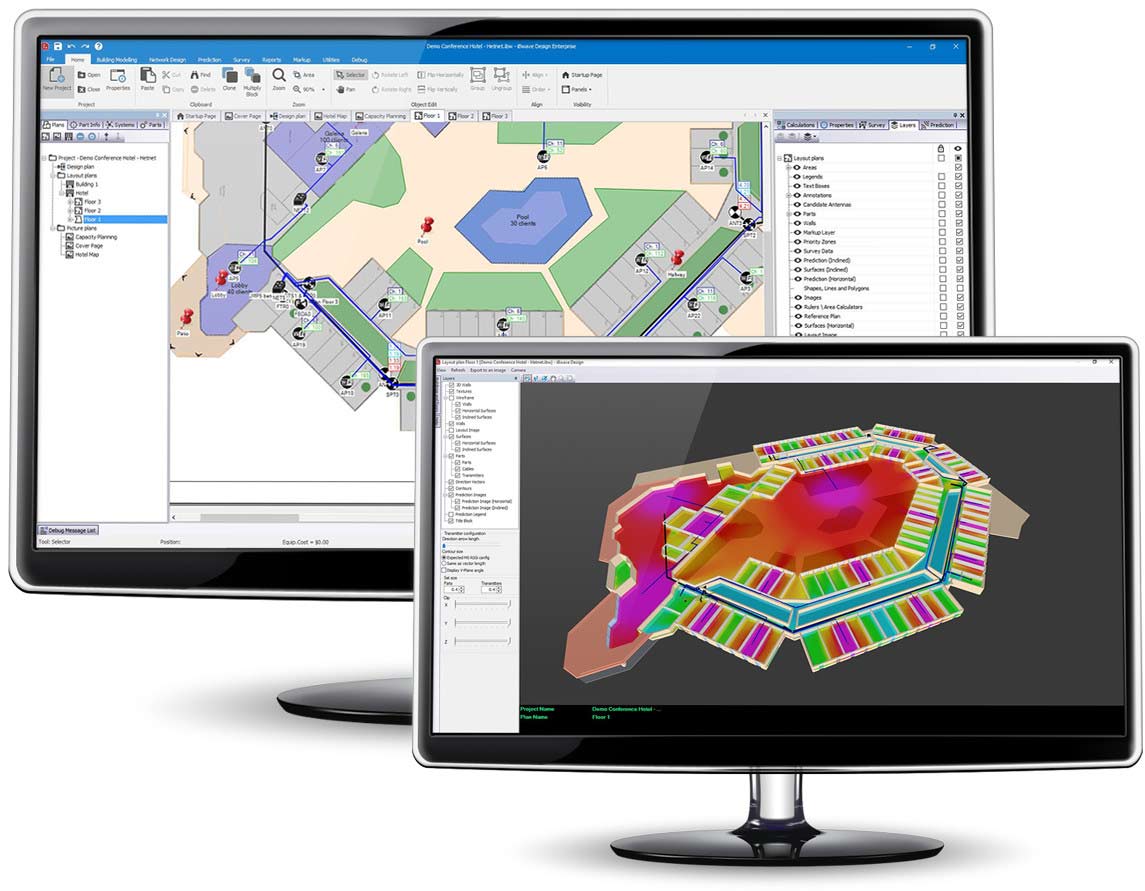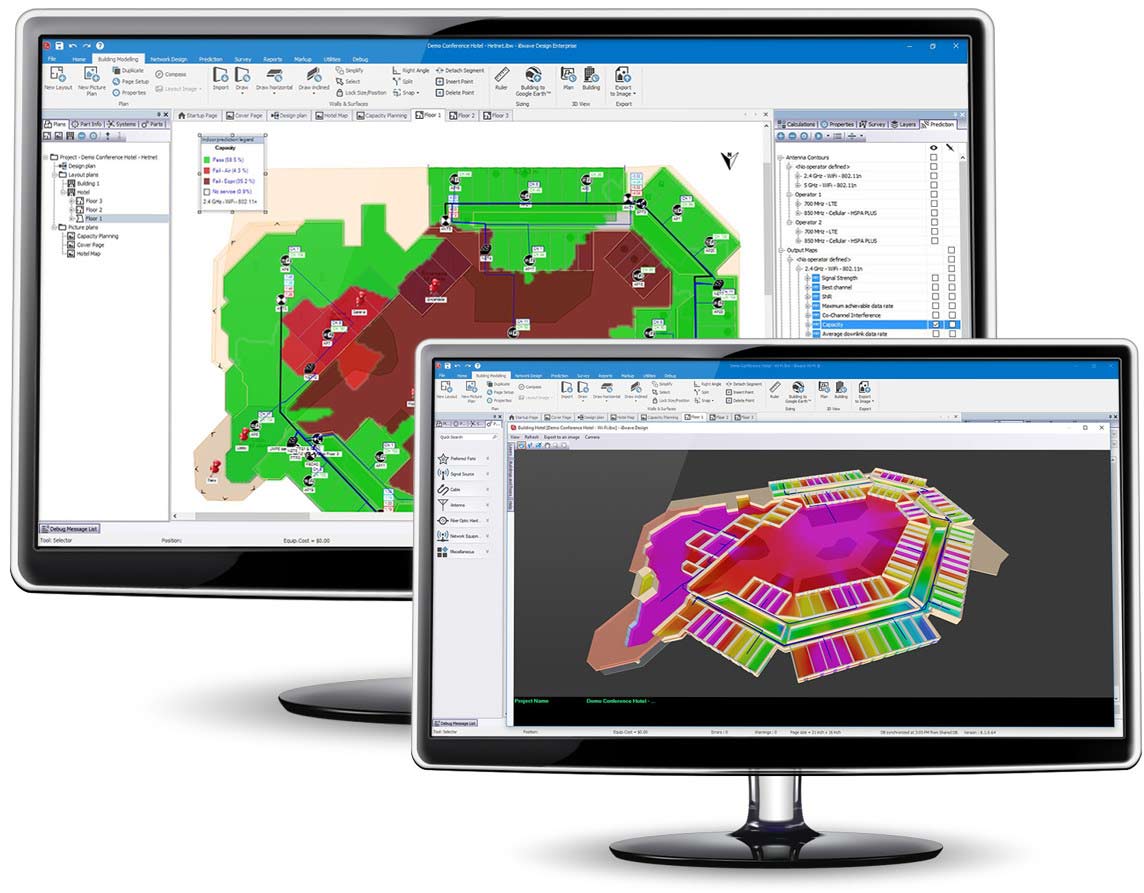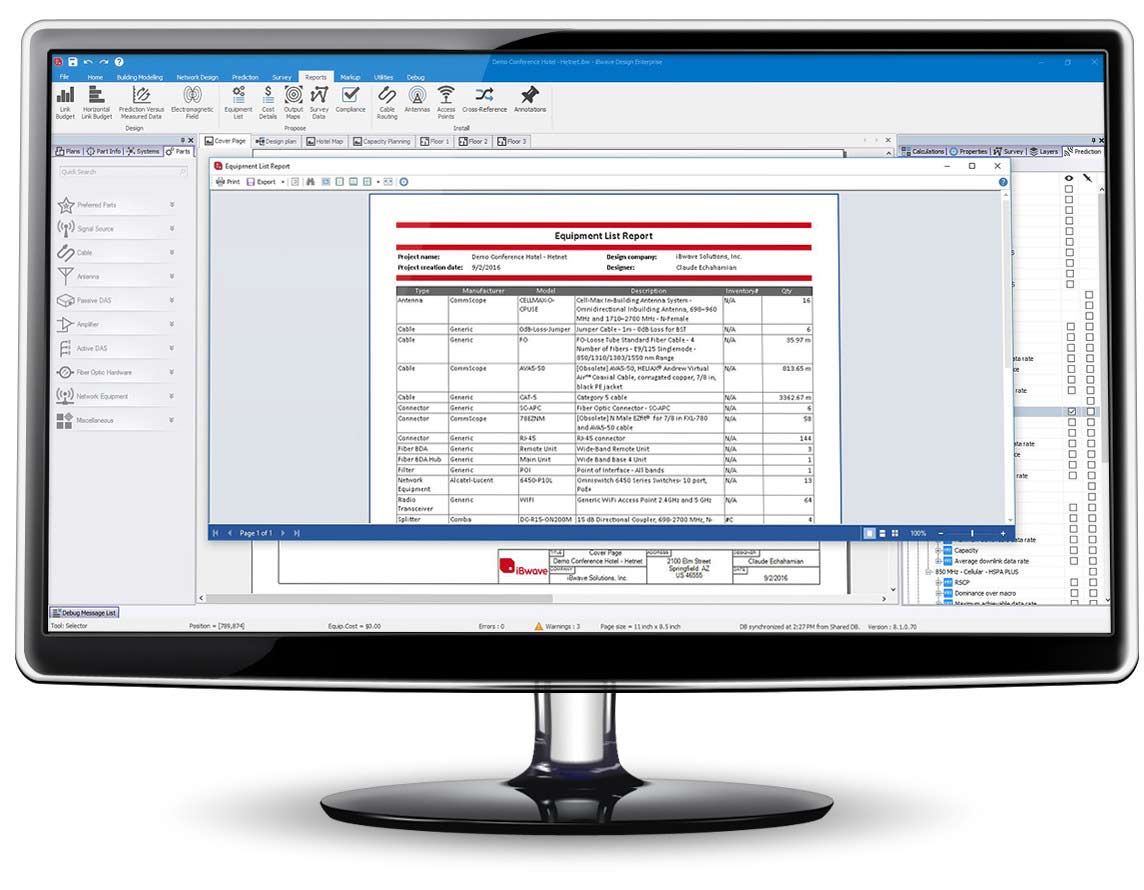 ---
3-Month Subscription(1)
$
1,495

USD / €

1,375

EUR
12-Month Subscription(1)
$
2,950

USD / €

2,750

EUR SAVE $1,495

(50%) when you purchase over a 12 month period.
Perpetual License(2)
$
3,995

USD / €

3,730

EUR

(1) Subscription license include Annual Maintenance & Support (AMS) as well as 10GB of cloud storage for the duration of the subscription. Subscriptions need to be renewed before end of the subscription term in order to maintain access to the storage space.

(2) Perpetual license includes one year of Annual Maintenance & Support (AMS) and 10GB of cloud storage. AMS will need to be renewed for subsequent years to maintain access to the storage space.
iBwave Wi‑Fi® software features
Wireless Technologies
Wi-Fi (802.11 a/b/g/n/ac)
Free Active survey server
Simultaneous Active and Passive walk test
Supports multi-adapter Passive survey
Network Design
Design Plan for indoor RF system design (building and/or floors)
Centralized database with vendor-modeled network parts: APs, cables, switches, routers
Advanced 3D design with adjustable wall heights and inclined surfaces
Network validation and error checking
Automation
Automatic access point placement
Automatic channel assignment
Automatic Design Plan organizer
Automatic cable length measurements
Building Modeling
Create multiple buildings and multi-layered floor plans
Import floor plans and walls from .dwg, .dxf, .jpeg, .bmp, .tiff, .gif or .pdf files
Draw walls and surfaces (including inclined), assign materials or create your own
Advanced 3D Viewer to display buildings and floors
Show building location in Google Maps or Bing Maps
Export building to Google Earth
Propagation
Simultaneous multi-band / technology propagation and capacity 3D prediction analysis
Variable Path Loss Exponent , COST 231 Multi-Wall or Fast Ray Tracing propagation models
Probe to display multi-system prediction results
Compliance results and report based on user defined criteria
Prediction model and material calibration from survey data
Output Maps
Signal strength (RSSI), Maximum Achievable Data Rate (MADR) and Signal to Noise Ratio (SNR)
Best AP and Best Channel
Co-Channel Interference (CCI), AP count and Overlap zone
Capacity and Average Downlink Data Rate
Project Documentation
Use drawing tools to add lines , shapes, text and images
Create picture plans and photo mock-ups
Create annotations (text, audio, picture, video)
Create project revisions
Protect project file with password
Export project to .dxf format and all annotations to zip file
Print project documentation
Reports
Annotations, Output maps, RF Survey reports
Equipment list and Cost Details report
Access Points, Cable Routing and Cross-Reference reports
Prediction vs. Measured report
Compliance Report
Free report viewer for project stakeholders
Tools
Net scan
Frequency calculator
Power converter
Intermodulation calculator
Supported Wi-Fi Adapters
Netgear A6200
D-Link DWA-182 Revision A1
Asus USB-AC53
Buffalo AC866 N300
Belkin F9L1106az v1
BT 11ac Dual Band 900
AirPcap Nx: USB 802.11a/b/g/n
Software Requirements
Microsoft .NET Framework 4.5.2
Microsoft Internet Explorer 7.0 or later
Install the latest Windows service packs and critical updates from the Windows Update site
Administrative rights are required during installation
Hardware Requirements
Minimum
Processor: > 2.0 GHz
Operating System: Windows Vista, Windows 7, Windows 8 or Windows 10
Memory: 2 gigabytes (GB) of RAM
Hard Disk: 500 MB (including Microsoft .NET Framework installation)
Display: 1024 x 768, 24 bits
Recommended (for large projects)
Processor: Intel i7 Processor 2600 (3.4 Ghz) or more
Operating System: Windows 7 64-bit, Windows 10 64-bit
Memory: 12 gigabytes (GB) of RAM or more
Hard Disk: 500 MB (including Microsoft .NET Framework installation)
Display: 1680 x 1050, 32 bits
Video Card with 3D support and at least 256 Mb
* iBwave Wi‑Fi® does not allow the usage of multiple simultaneous Terminal Server sessions.
* iBwave Wi‑Fi® will not run under multiple simultaneous Terminal Servers.
"The ability to design and visualize Wi-Fi networks in 3-D is a unique iBwave feature that I have come to rely on for access point placement and troubleshooting. The granularity iBwave provides is exceptional, especially with the new capability to design with multi-radio APs that are unique to Riverbed Xirrus for supporting high density Wi-Fi networks. Add to that the mobile tools and the variety of reports you can generate makes iBwave an invaluable tool for Wi-Fi deployment."
- Ty Parker, Director Solutions Engineering for Riverbed CWNE #173
---
"iBwave's 3D predictive modeling and new smart antenna contouring with fast ray tracing takes Wi-Fi design tools to a whole new level."
- Alan Blake, CWNE #129, CWNT, United Kingdom
---
"From a vendor neutral perspective, probably iBwave Wi-Fi (PC Version) is the most advanced solution in the market. With full support to integrate Wi-Fi APs with detailed backhaul cabling , network infrastructures and budgeting, 3D venue modeling and network visualizations, the most advanced RF calculations for prediction accuracy, and cloud integration to simplify the interaction between Wi-Fi architects, project managers and site surveyors."
- Ronald Van Kleunen, CWNE #108, CEO Globeron
---
"In today's high density Wi-Fi environments, airtime is a precious commodity that is best served by the abundance of available channels in 5 GHz. Access points with dual 5 GHz radios are best suited to meet airtime and capacity needs. A software selectable radio also offers the benefit of 2.4 GHz connectivity when needed. iBwave's multi-radio feature assists any WLAN professional with dual 5 GHz WLAN designs in addition to legacy 2.4/5GHz WLANs designs."
- David Coleman CWNE #4